Once again, we have reached that time of the year when people are preparing for the holiday season's festivities. As a business, you might want to start looking at gift ideas for both employees and customers. Most people agree that it is a good idea for companies to offer a gift to their employees, but choosing a gift is a challenge on its own. Custom dinner plates are an excellent option that you can consider. They provide a functional design that people will regularly use, making it easier for customers and employees to appreciate these gift choices.
What to Consider When Choosing Business Gifts
When you choose a gift for customers and employees, you may face a difficult situation. A great gift choice can help to improve both loyalty and happiness among your employees. Providing customers with a gift can also cultivate a stronger bond between them and your business.
You can look at a few things if you are unsure what type of gift is right for the festive season. Consider factors like what services or products your business offers, as well as what the employees, as well as consumers, would find most valuable or useful. When you choose a gift, consider its functionality and the convenience it would bring the person on the receiving end.
Best Festive Gift Options for Businesses
Custom gifts are often considered the ideal choice for businesses, as they can show a greater level of appreciation to both employees and customers. This is where a set of custom dinner plates can become a valuable choice.
Custom dinner plates with name of your company allow you to easily add branding of your business to dinnerware or even have the name of your employee or the customer printed on top. The branding element not only adds a personal touch but can also help to expand your marketing channels into the homes of people who will receive these gifts from you.
Custom Dinnerware Sets From Golfe as the Best Business Gifts
There are a couple of custom dinner plates that you can consider. Golfe is a manufacturer of wholesale dinnerware sets and offers a wide range of customization options. When you are looking for custom dinner plates for restaurants as business gifts, be sure to keep an eye on the following options that we offer:
4Pcs Nordic Ceramic Dinnerware Set
The 4Pcs Nordic Ceramic Dinnerware Set is a great choice if you want to find a business gift that presents elegance. The use of stoneware adds a trendy element to the set's appearance. Each of these sets comes with a dinner plate, salad plate, a single bowl, and a 14-ounce mug. The carefully crafted structure of the pieces in each set ensures they offer a durable design but still present a smooth feel. The items in the set are both microwave and dishwasher-safe, which adds to the overall convenience they can offer the user. Your employees and clients will be overjoyed when they receive this dinnerware set as a business gift.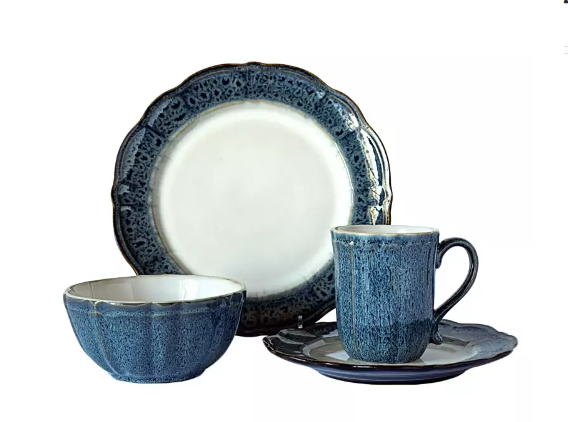 White Bone China Gold Rim Dinnerware Set
If you consider giving business gifts with a simplistic yet unique design, then the White Bone China Gold Rim Dinnerware Set is a great choice. The combination of special shape and gold rim adds modern and luxurious air to the overall design of these china plates with gold trim, which your employees and clients would love as business gifts. The set comes with many pieces options, including 16, 20, 42, and 56 pieces set. This is also an option when looking at custom dinner plates with logos.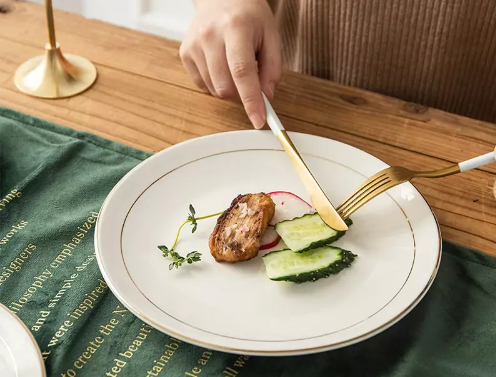 Conclusion
Custom dinner plates will never go wrong when looking for business gifts for holidays, and Golfe is a custom dinnerware manufacturer you can trust. We offer a wide range of stoneware, ceramic, and porcelain dinnerware, such as the blue dinnerware set, 12-piece dinnerware set, etc. By allowing the customer to customize certain elements of these items, we can also add a personal touch to dinnerware, cups, and other common household items. So let's get the best business gifts in Golfe today!