The market for porcelain tableware had reached a global value of $ 7547.71 million  by the end of 2022. This shows the popularity of porcelain dinnerware. It remains a popular choice among households, restaurants, and supermarkets and is also a great option as a promotional gift to expand brand awareness and even prompt word-of-mouth marketing for your business. Here we will give you all the details of porcelain dinner plates as promotional gift ideas.
Choosing the Right Porcelain Dinnerware as Promotion Presents
Porcelain is an upscale material that adds a classy and elegant finish to dinnerware. They are great for occasional dining with special guests and can make a lasting impression.
When you want to use porcelain dinnerware as a promotion gift, it is crucial to ensure you pick the right manufacturer. The custom dinnerware manufacturer should offer you a clear view of the composition they use to produce the porcelain items and have a track record for providing customers with top-quality tableware items.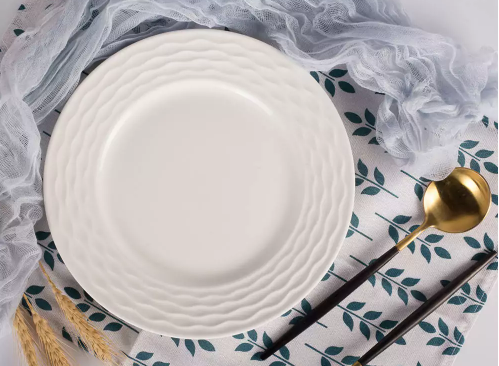 Features to Look for When Buying Porcelain Dinnerware as Promotional Gifts
When you want to use porcelain dinnerware as a promotional gift, it is important to ensure you know what to look for. Here are some of the most important factors that can make a great promotional gift when looking at porcelain in particular:
Durability:

You don't want the gifts to break with light usage but rather want to ensure they can last for a long time. This is why durability should get priority when you look at different porcelain tableware sets. Make sure a tough and durable material is used in the construction of the porcelain. A slightly thicker structure can also add to the dinnerware's durability.
Presentation:

The way how the dinnerware presents matters. Quality printing options are important to ensure the logos on the dinnerware will not fade or start to peel off after a short while. Remember where the manufacturer will print your logo or other branding graphics.
Aesthetics:

The dinnerware's overall aesthetics is another thing you should look at. Make sure the dinnerware offers the classic elegance that people expect from porcelain.
Other requirements:

Other factors, such as eco-friendliness, also matter. Choosing eco-friendly porcelain dinnerware as a promotional gift conveys a responsible corporate image to your clients.
What Is the Best Porcelain Dinnerware for Promotional Gifts
There is a couple of porcelain tableware options that you can consider, among which white porcelain tableware is the most popular. Here are some reasons why it is ideal for being a promotional gift.
White porcelain dinnerware gives a variety of aesthetic options. For example, white porcelain plates with gold trim add a modern and luxurious sense, while blue and white porcelain plates convey a simple and simplistic impression. Varying in styles and aesthetics, two of them are suitable for promotional gifts.
White porcelain dinner plates never go out of style, going perfectly with any occasion, from parties to home dining. They are easily matched with dishes, tables, and the whole theme of the dining table. When clients use white porcelain dinner plates with your logo on these occasions, your brand is more recognized by guests.
Where to Get Wholesale White Porcelain Dinnerware as Promotional Gifts
The right white porcelain dinnerware manufacturer can help ensure your promotional gifts are durable, well-made, and live up to your customer's expectations. Also, a reliable supplier should offer custom porcelain dinner plates to satisfy different needs. If you want to find a reliable supplier of white china plates, look no further than Golfe. We have been delivering top-quality tableware and related products for years. As a wholesale dinnerware supplier, we pride ourselves on quality, customer service, and customizing items provided to brands and companies. Choose us, and we will help you produce custom porcelain dinnerware as promotional gifts that your clients like!